We demand an end to bogus self-employment for 24-hour personal care workers and take legal action!
Good care and support needs good working conditions!
Therefore we go to court.
…A big "THANK YOU" to all who help finance the trial!
Special thanks to RD Foundation Vienna for the generous donation.
IG24 – Interest Group of 24h-Carers in Austria:
WHO WE ARE – OUR GOALS
We are 60,000 and indispensable!
Every few weeks we, mostly women, travel from Romania, Slovakia, Bulgaria, Croatia or Hungary to Austria, on often overpriced transport, to look after and care for physically and/or psychologically seriously ill people in their homes. For several weeks, seven days a week, 24 hours a day, often completely isolated with the people we care for.
We work as self-employed entrepreneurs, although neither the place, time nor content of the work have the character of self-employment. We work as assistants, although our daily work would be inconceivable without carrying out care activities.
But because our pseudo-self-employment and our status as assistants makes our labour cheaper, our demands have so far gone unheard.
Our social security is almost non-existent, there is no protection for us under labour law. We work for a shameful two to three euros an hour, 24 hours a day. The path to poverty in old age is guaranteed; in retirement we are usually left with no more than one to two hundred euros per month.
Almost all of us are placed with people in need of care by agencies. Agencies that charge a lot of money for their mediation work, from us and from the persons in need of care, with often immoral clauses in their contracts – agencies to which we are largely delivered unprotected. The fact that there are now almost a thousand agencies in a small country like Austria is evidence of the gold-rush atmosphere in this industry.
In the households where we work, in addition to the difficulty of the work, we also repeatedly find inhumane conditions; we are often housed in small chambers that do not deserve the term room; often the food we receive is insufficient. Often our access to electricity, heating or hot water is restricted by the relatives of the person in our care. Often the work we are asked to do (gardening, taking care of animals, etc.) has nothing to do with the actual assistance work. We are often subjected to (sexual) assault and violence by the patient, but also by family members.
It is for all these reasons that we are now organising!
Some of us have joined forces with supporters to form the
IG24: Interest group of 24hour carers.
Fight against apparent self-employment – PROPER EMPLOYMENT CONTRACTS NOW!
We want to enforce an employment relationship regulated by the public sector and paid accordingly.
Establishment of free, independent advisory structures
...which enable us to consistently confront grievances within the employment relationships, in the placement companies and the families.
The experiences of the Romanian and Slovakian 24-hour counsellors as well as the flagship project CuraFAIR of Volkshilfe Upper Austria clearly show that the free offer of independent legal counselling in the mother tongue already represents an enormous step forward. The quick implementation of counselling centres in every province is therefore an urgent and effective measure.
Publicly addressing the grey area of care and support
We work as assistants, although our daily work would be unimaginable without performing care acts.
Making taboo issues such as (sexual) violence in the workplace visible and combating them
No more inhumane conditions! Decent accommodation and food, contact points in case of (sexual) assault and violence against us.
We want to regain our dignity as women and as migrant workers and better support each other in our everyday isolation facing often excessive demands.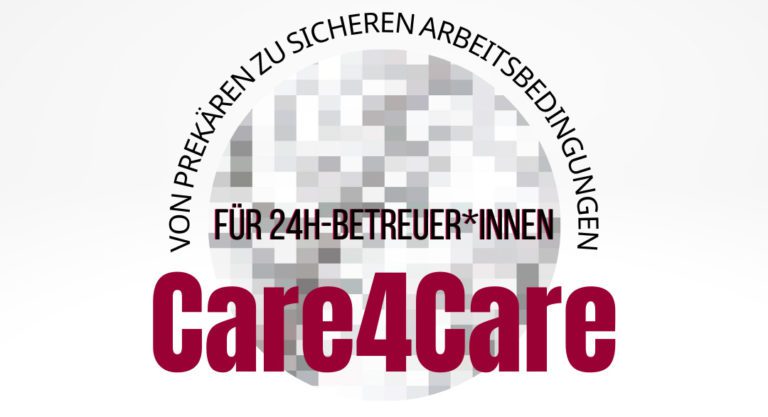 Improving the working conditions and safe labour migration of migrant 24-hour caregivers working in Austria
This project is dedicated to digital opportunities for giving 24-hour carers access to objective information. The goal is to highlight to them their rights and the legal options open to them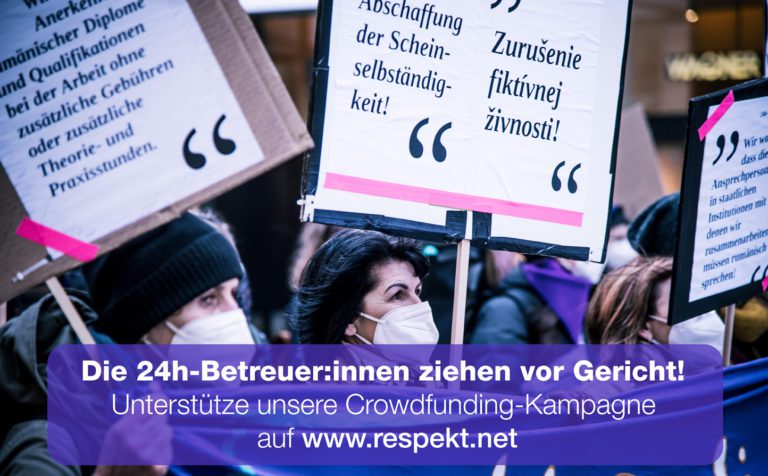 We demand an end to bogus self-employment for 24-hour personal care workers and take legal action!
Would you like to receive the IG24 newsletter?
After registering, you will receive an e-mail from us with a link that you must click on to confirm your registration.Please also check your spam folder.
We do not share your e-mail address. You can unsubscribe from the newsletter at any time. You will find the unsubscribe link in each of our newsletters.
Yes, please, send me the IG24 newsletter
Due to work overload, we are currently unable to translate all news into all of the languages in which we offer content. Please understand …! If you want to read all news, and understand German, please click on the red button.

HELP! Translators urgently needed!
Dear friends of IG24,
We are urgently looking for volunteers to translate news articles and updated information on our website!
Most of our resources go directly into advising and supporting colleagues.
So if you have a very good knowledge of one of the languages offered – Bulgarian, BSK/Croatian, English, Romanian, Slovakian or Hungarian – and at the same time a very good knowledge of German, and you know a bit about MS Word or Libre Office Writer, AND WOULD LIKE TO SUPPORT US: Please get in touch!
Subject: Help with translations
THANK YOU!
Zum Thema "Qualitätszertifizierung  von Vermittlungsagenturen" gibt es eine gute Artikelserie: 1. Teil: https://www.moment.at/story/oeqz-24-betreuung-agenturen 2. Teil: https://www.moment.at/story/24-stunden-betreuerinnen-oeqz-24
Read more